The Rochdale branch does not normally have dogs for rehoming but please contact the Animal Centre to enquire if there are any currently available.
You can also look at the main RSPCA website to find dogs available for adoption in your local area and beyond.
Check out their 'Pet search' links. Visit the RSPCA National website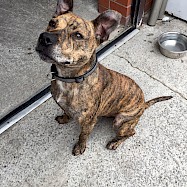 Charlie
Staffie Cross - Male - 4 yrs old
Our boy Charlie Bear is looking for an extra special forever home.
When Charlie was brought to us via the inspectors he weighed less than 9kgs, had pressure sores and no fur on his ears. He was very withdrawn, didn't interact, and didn't even know his name. 
Charlie is now a very happy dog (nearly double his original weight). He loves to play, comes when called and will sit when asked. He loves his walks, and enjoys a big fuss. He has not had much interaction with other dogs and can get over-excited but he is also a fast learner. We are looking for a home where he won't be left for more that a couple of hours at first, and with someone who can continue with his training. We think he would probably be best as an only pet BUT could possibly live with a calm older dog but no cats.
Any children should be over 13 years old.