Rabbits can make lovely pets, but need a lot more care and attention than people realise. Advice will be given on suitable accommodation and care. Please contact the animal centre for details.
Please read about Adopting one of our animals before enquiring.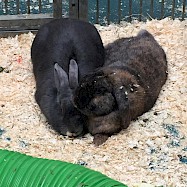 Percy and Rolo
Male and Female adults
Percy and Rolo are a pair of rabbits who came to us separately but have now been with us for several months. Rolo, a grey adult female, came to us after being found running loose on a local field. She simply ran over to the couple who found her and was very happy to be brought to the centre. Percy, a tan and black male, was brought into RSPCA care by one of the inspectors so not much is known about his history. After both had been neutered they lived next door to each other for a while and when we decided to put the pair in together, it was instant success and now the pair are living in wedded bliss! We would like these 2 to be rehomed together to continue their honeymoon. Percy and Rolo are very confident and not much fazes them, from having chickens as neighbours to listening to dogs barking, the pair just take it in their stride! They are never far from each other, often found sleeping together or grooming each other. They love all of the veg and fruit that we provide for them and also love being groomed. We would like them to have at least 6×3×2 feet of space with an additional run as we are sure they would like a garden to explore in, especially in the warmer months!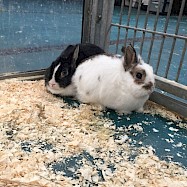 Bobby & Kaitlin
Bobby and Kaitlyn are a pair of Netherland Dwarf cross rabbits who sadly haven't had the best start in life. These 2 along with the other 2 rabbits in our care, Hector and Simba, were part of a cruelty case and they are looking for a special home together. Bobby is a white and brown adult and can be quite nervous, but has already grown in confidence since being in our care. Kaitlyn is a black and white adult and is the more laid back of the pair. These beautiful rabbits are very close and can often be found sharing some veg before giving each other a wash! Bobby and Kaitlyn can be rehomed as house rabbits or they could live outdoors as long as they have a large enough enclosure with a safe run so that they can stretch their legs. We are sure that once they are settled in their new home they will provide their new family with plenty of love!