Rabbits can make lovely pets, but need a lot more care and attention than people realise. Advice will be given on suitable accommodation and care. Please contact the animal centre for details.
Please read about Adopting one of our animals before enquiring.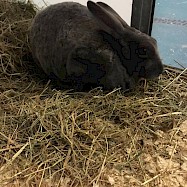 Jessica
Female adult Rex
Jessica is a stunning grey Rex female who was brought to us by one of our inspectors. Unfortunately we don't have any history and we don't know her exact age, but she is an adult female. Jessica is a truly stunning lady! She's very laid back and it happy to be stroked and handled before having a potter around, nosing at what is going on around her! We would like her to be adopted to a home where she will have a bunny companion and we are happy for any potential adopters to bring their rabbit to the centre for a spot of 'speed dating' to see if Jessica likes her potential new partner! Jessica is suitable to be adopted to a home where she will live either indoors or outdoors, as long as the accommodation is large enough for her to stretch her legs and have a proper run round!