We usually have a selection of small animals available but please check with the Animal Centre first
Ferrets
Guinea pigs
Hamsters
Rats/mice
Gerbils
Budgies
Please read about Adopting one of our animals before enquiring.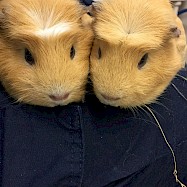 Daisy and Donald
Adult Guinea Pigs
Daisy and Donald are an adorable pair of guinea pigs who came into our care after their owner could no longer take care of them. Both piggies are tan and are almost identical but daisy has a white patch on her head! The pair came to our centre at the end of last year and Daisy was pregnant. Now that her babies have gone to their new homes and Donald has been neutered, the little lovebirds have been reunited and are looking for a forever home together. Donald and Daisy can be a little hand shy initially and often hide away when you first enter their room, but it doesn't take them long before they are out of hiding to see if you have brought them any tasty treats! Once they are sat on your knee the pair become very chatty and will talk away to you whilst you stroke them. We are looking for a home where Donald and Daisy will have an accommodation large enough for them to stretch their little legs and would ideally like them to be able to have an outdoor run where they can enjoy some sunshine in the summer months.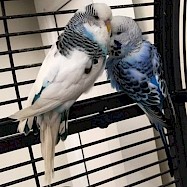 Boris and George
Adult Budgies - to be rehomed together
Boris and George are a pair of blue and white adult budgies who are looking for a home together. The pair came in separately but it didn't take them long to bond and now they love each other! The boys often spend most of their days sitting side by side on a perch, kissing and grooming each other. They also like to have the radio on and we can often hear them singing away. We would like Boris and George to be adopted together into a home where they will have plenty of room to stretch their wings and where they will get plenty of stimulation.