We usually have a selection of small animals available but please check with the Animal Centre first
Ferrets
Guinea pigs
Hamsters
Rats/mice
Gerbils
Budgies
Please read about Adopting one of our animals before enquiring.
Bertie & Sergio
Ferrets
Bertie and Sergio are a pair of male ferrets that are looking for a home together. These boys were brought to the centre separately after being picked by our inspectors, but after being neutered and having slow introductions they are now the best of friends and love causing trouble together before curling up for a snooze. We are not sure how old Bertie and Sergio are, they are adults however and are now at full size. Although they look very similar, they each have their own personality. Sergio is very cheeky and confident whereas Bertie is quite lazy! Sergio is the more friendly of the two and is more than be handled and will show his appreciation by kissing you! Bertie can be a little cheeky and has been known to give a playful nip which is why we are looking for a home with an experienced ferret owner. These boys love the great outdoors so we would love for them to go to a home where they could enjoy a safe outdoor space. They are extremely cheeky and aren't afraid of exploring any new surroundings so their new home will need to be completely secure and ferret proof! We are sure that Bertie and Sergio will provide their new family will hours of love and plenty of laughs!
Fish
Miscellaneous fish
From time to time we have various coldwater/tropical fish available.
Please ring the Animal Centre to check.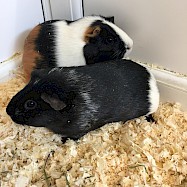 Izzy and Louise
Female Adults
These pigs were brought to us over a year ago by one of our inspectors when they were found living in awful conditions with lots of other Guinea Pigs. After receiving plenty of TLC and gaining some weight, these lovely ladies are waiting patiently for someone to fall in love with them. 
Here we have Izzy, a tri-coloured adult female, and Louise, a black and white adult female. These 2 are a little bit reserved and are often found snuggled up together under their bed. Although they are a little shy, once they are sat on your knee both Izzy and Louise let you know how happy they are by letting out squeals of joy! We would like the pigs to be adopted in their bonded pairs and they must have a minimum hutch size of 6×2×2 feet of space with the option of an additional run. These guinea pigs really deserve a second chance after living in such terrible conditions and we are sure they will make excellent family pets!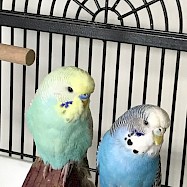 Dennis & Doris
Meet Dennis and Doris! This stunning pair of Budgies were brought to us by one of our inspectors when they were found living in a tiny cage covered with a towel. Dennis and Doris are looking for a home together with accommodation large enough for them to spread their wings! The pair are often found sitting side by side on a perch singing away to each other before giving each other a wash. We would love for this beautiful pair to find a home where they can thrive and be spoilt!