The following is a list of our CATS. Cats of all ages available for adoption, up to 60 available. All cats will be health checked, neutered/spayed, vaccinated and microchipped before being rehomed. 
Please read about Adopting one of our animals before enquiring.   PLEASE BE AWARE THAT SOME OF THE CATS AVAILABLE MAY HAVE RECENTLY BEEN RESERVED - YOU WILL NEED TO CHECK FIRST WITH OUR ANIMAL CENTRE FOR UP-TO-DATE INFORMATION.
Cats and Kittens available for Adoption: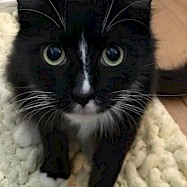 Jasmin
Female, 2 Years Old
Jasmin is looking for someone to show her "a whole new world". Could you be the one to help her? We sure hope so as if this little lady had a magic lamp and access to three wishes, she would most definitely use them to find a new home, a family to love and possibly an endless supply of dreamies……..but mainly the new home! Sadly she doesn't have the lamp and so needs your help instead in order to find her happily ever after!
Upon arriving with us here, Jasmin was found to have Calicivirus and so has been having some medication in order to resolve her symptoms which have mainly included ulcers in her mouth. What this means for Jasmin going forward is that she will need to be an indoor only cat and also be the only cat in the home, as individuals that have had this virus are typically carriers of the virus for life even if they are not showing any symptoms of it. Symptoms can flare up throughout a cats life and so if this happens, Jasmin would just need to see a vet again in order to have her symptoms treated (as the virus cannot be got rid of completely). There is lots of information online regarding this virus, or you could speak with your vet too if you wanted advice from a veterinary perspective. We are also on hand to answer any questions that you may have so don't delay in getting in touch as we are happy to help if it means we can find this cheeky girl her forever family.
In terms of temperament, Jasmin is a dream. She is chatty, affectionate and pleasant natured and we know this first hand as she is currently being fostered by one of the managers here! She has settled in incredibly quickly and is an all-round confident lady. She will therefore make the loveliest of additions to whichever family adopts her. Once you have met Jasmin, you will be hard pushed to find a nicer feline friend and she is not scared to shout from the rooftops that "you will never have a friend like me!"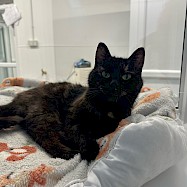 Luke & Leia
Male and Female
A long time ago in a galaxy far, far away….there were two sweet cats on the lookout for a new planet on which to place their weary paws. Searching for a home is a tough feat for any jedi and so this pair are hoping that their search will soon conclude and that they will be rewarded with the love of a new family.
Luke and Leia came into the centre after they were sadly abandoned by their previous owner. They are therefore looking for a fresh start and are looking to storm or troop into a new home that is stable and filled with love and affection. We don't think they will be looking too long to find just that, as they are a super pair who will make great companions for whoever is lucky enough to take them home.
Leia is the more confident of the pair, and is always on the lookout for fusses and attention. She has the sweetest meow and couldn't be more friendly if she tried! Luke is a little more laid back, but is still super affectionate and even more so when there is food around….this boy loves his grub! Additionally please don't worry as you don't need a millennium falcon in order to take this pair home….a cat carrier will more than suffice!
Are yoda one for this pair? If so, then may the force be with you as you fill in the rehoming form! We can't wait to receive it and introduce you to this sweet boy and girl.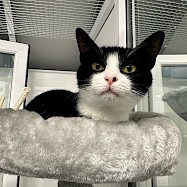 Jaffa
Female, 18 months old
There isn't anyone's day who isn't made better by a Jaffa cake. However, how about a cat called Jaffa instead? She is just as sweet, will be around much longer than the famous snack and she may even become your best friend at the same time! What is not to love?!
This little lady was found as a stray after having given birth to 4 beautiful babies who looked just like her. She has spent the past few weeks raising her lovely little Doppelgangers and is now ready to retire as a mum and move forward to being a loving companion for a human family. She is only 18 months old herself and so has many more adventures to have!
Jaffa is a lovely little lady and laps up all of the attention and fusses whenever someone visits her pen. All she wants is someone to love and for someone to love her in return. Do you think you could be the one to fulfil that role? If so, we would love to hear from you.
They do say sweet treats can last a moment on the lips but a lifetime on the hips…….however this cheeky little lady will instead walk innocently beside you whilst you navigate life together. And what a sweet little friend she will be.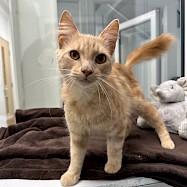 Elmo
Male
Elmo is a sweet boy who is on the lookout to become a lead character in the life of a new family. Therefore if you have been searching for a cuddly lead man, Elmo could well be the boy for you.

Elmo originally came into us via an inspector after his previous owner was no longer in a position to be able to care for him anymore. He is therefore looking for his second chance at happiness and we hope he doesn't have to wait too long to find just that.

This dainty lad is handsome, friendly and sweet natured and will make a lovely addition to the life of whoever takes him home. He has had some evidence of FAD on arrival to the centre, however keeping up to date with a good quality flea treatment going forward should help to keep this at bay.

Whilst the puppet Elmo may help you to learn your ABC's and counting, the feline Elmo is better acquainted with teaching you just how amazing it is to have the love of a cat in your life. Feline Elmo is also extremely talented when it comes to informing you of when the treat jar is empty so in many respects, he must be good at counting too!

Don't worry, you don't have to live on Sesame Street in order to adopt Elmo.....you just need to have a single home that is filled with love that you are willing to share.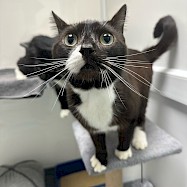 Stitch and Button
Dad (3 years old) and Son (18 months old)
Stitch (3 years old) and Button (18 months old) are a dad and son duo on the lookout for pastures new. Do you have space either side of you on the couch for these cheeky lads? If so, we would love to hear from you! And they would too!
These boys were originally brought into us via an inspector after their owners sadly couldn't keep them anymore due to the cost of living crisis. We are therefore hoping to find these boys a home where they will be loved just as much as they were with their previous family. Can you help?
Stitch is dad and he is the more confident and the more nosy one of the pair. He is always watching what is going on and comes up to greet you when you visit his pen. He definitely likes to watch the world go by. Button is a little more reserved and tends to let dad investigate first before then coming out to get some attention too when he knows all is ok. These boys really are a sweet pair who will make lovely additions to the homes of the adopters who take them home.
If you think these boys could be the one for you, then please get in touch. We promise you, this isn't a stitch up…they genuinely are as cute as a button. They will genuinely make your life a whole lot sweeter and can't wait to hear from you.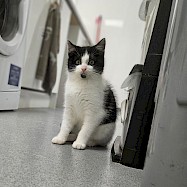 Mercedes
Male, Black and White, Kitten
Young Mercedes here is only a young boy, yet has had a very hectic first few months of life. He was brought into us after being found outside a Mercedes garage all by himself with incredibly dirty fur. When he was found, he was absolutely terrified and it was clear that this was because little Mercedes hadn't been around people much (if at all) in his early weeks of life.
Thankfully, a kind worker at the garage managed to catch Mercedes before contacting us for help. The worker was then kind enough to bring Mercedes into us for some much needed TLC and this cheeky little feline hasn't looked back since!
We ensured to spend lots of time socialising with Mercedes in order to get him used to people when he first arrived so that he came to knew that we meant no harm. In no time at all, Mercedes has gone from being fearful of the world to being the most loving little boy. He purrs the moment he sees you and loves nothing more than having someone to cuddle and someone to play with. He will make the most incredible companion. He just needs someone to offer him his forever home!
If you have a place whereby this little lad can park his paws, then we want to hear from you! Don't worry, he is very easy to maintain and as long as you hear a steady purr, it means his engine is ticking over well. We hope to hear from you soon!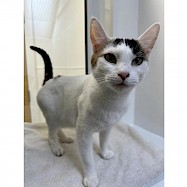 Robin
2 years old
Have you been looking for a 'Rockin Robin' to come into your life to make things a little brighter as we move into those gloomy autumn days? If so, then this lady may be the one for you as she is looking for a cuddle buddy too!

Robin is looking for a new place to nest down after her previous owner was unable to keep her anymore. She is therefore keeping her toebeans crossed that she won't be waiting too long for her second chance at happiness to come along. If there is room for her to perch next to you on the couch, then she wants to hear from you! And we do too!

In terms of temperament, she can be a little timid for the first few minutes when she first meets you, however once she knows you mean no harm, then she laps up all of the attention. She loves fusses and will make a loving companion to whoever is lucky enough to adopt her.

If Robin could be the one for you, then please don't hesitate to submit a homing form. She is looking for a new family tree to join and yours may just be purrfect!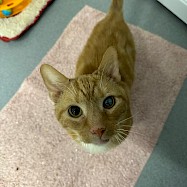 Sid
Male, 8 years old
Could you be the one to give this cheeky chap his furever home? If so, he would very much love to be introduced to you, as he has lots of purrs and hugs to share!
The lovely Sid was brought into us via an inspector after he was not being kept in appropriate conditions. On arrival to the centre, he was therefore more than happy to have lots of space to play in, a warm bed to cuddle up into and a bowl of food all for himself! Despite this, the one thing that would make Sid's life 100% complete, would be to find someone to offer him that forever home that he so badly deserves. Could that special person be you?
In terms of what Sid is like, he is full of energy and just wants to be around you all the time. He loves attention, laps up all the fusses on offer and just has a real zest for life. Sid is one of those cats that can teach us that even though you may have some tough times throughout life, there is still joy to find in each day.

Sid is looking for an indoor only home as he has a cataract in one of his eyes and so we believe he may have reduced vision in this eye making him more at risk going outside. We are sure he will adapt well to an indoor home as he is very people orientated and is happy as long as he has company and his food!

If you would like to meet this loving boy, then please do get in touch. He is eager to see the first application coming through!