The following is a list of our CATS. Cats of all ages available for adoption, up to 60 available. All cats will be health checked, neutered/spayed, vaccinated and microchipped before being rehomed.
Please read about Adopting one of our animals before enquiring.
Cats and Kittens available for Adoption: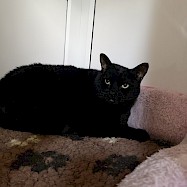 Missy
Female - 10 yrs old
Missy came into our care when her owner was moving house and could not take her to the new property. Missy was a chunky 7.65kg when she arrived, so understandably she has been on a diet and has lost 1.12kg so far! She still has a bit to lose so weight loss food would have to be continued until she reaches an ideal weight. Missy was very shy at first and rarely moved from her bed. Since losing some weight she seems much happier, often seen sat on her shelf peering out of the window at passers-by and also going for a little wander around the cattery. Missy is looking for a quiet home with older children and preferably the only cat in the household. She would benefit from a safe outdoor space to explore and continue her journey to losing the extra weight!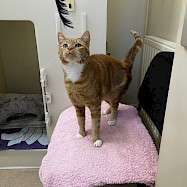 Amber
Female 10yrs+
This beautiful ginger female is Amber. She was originally with us as a kitten but has been returned to our care as her owner could no longer look after her. Amber was very nervous of staff upon arrival and hid in her bed. We have given Amber a larger, quieter room to help her come out of her shell. Since then she has gradually become more comfortable around our staff and volunteers. Amber is very independent and likes to do things on her terms. She is very playful and her favourite thing to do is play with a feather chaser. When she is used to you she will wrap around your legs and if you are very special you will receive some loving headbutts! She enjoys being stroked with a chaser toy, but doesn't quite like to be stroked by hand yet. Amber has previously lived with a cat and could possibly live with a friendly dog that is used to having cats around.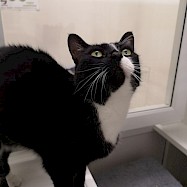 Laila
Female - approx. 5 yrs old
Laila came into us via our Salford Animal Hospital as her owner could no longer take care of her. She is a 5 year old black and white lady, with cute little white toes. Every morning Laila is the first cat that greets staff as they walk into the cattery, patiently sitting on the shelf watching us prepare her breakfast! Laila is very friendly, she loves human attention, she wraps around your legs and loves head tickles. When she has had enough she will let you know with a little slap, therefore she would be better suited to a home with older children. Laila isn't that fond of other cats so she would be better suited to a home with no other felines. We aren't sure if Leila has previously lived with dogs, so she could possibly live with a laid back dog that is used to living with cats. Leila would also love to venture in the great outdoors so would need a home with a safe outdoor area to explore after she has settled in.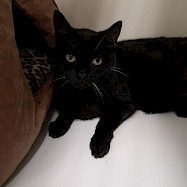 Ebony
Female - 13 yrs old
Ebony came into RSPCA care as her owner was moving house and couldn't take her to their new property. She enjoys the simple things in life like a nice comfy warm bed to sleep in watching the world go by. Not to forget food, when she realises its dinner time she will be straight up from her slumber waiting patiently on her shelf with the odd 'meow' telling you to hurry up! She is a lovely girl who enjoys being stroked, rolling on her back showing you her belly and purring away. Ebony would love a retirement home to spend the rest of her days cuddled up on a lucky someone's knee in front of the fire. Ebony has previously lived with cats so could possibly go to a home with cat residents. Due to her age Ebony could also live as an indoor cat.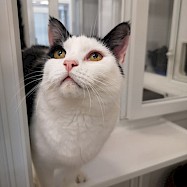 Spade
Male - 9 yrs old
Spade came into RSPCA care as his owner was evicted and could no longer care for him. He is a confident cat greeting every visitor and hoping they bring some treats in with them. If you don't present some straight away he will search you with his beautiful big amber eyes until he finds some! Spade has been in with us since June so unsurprisingly he is very bored of being here and would love a house to take over. He has swiped on the odd occasion at staff so we think Spade would be better suited to a household with older children. He has previously lived with other cats so could possibly have another feline friend for company. Due to his confident nature we think Spade could also possibly live with a laid back dog that is used to being around cats. Spade would also need a safe outdoor space to explore once again once he has settled into his new home.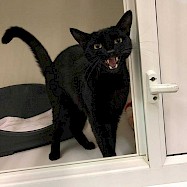 Binx
Male - 4 yrs old
This mini panther is the stunning Binx who came to us when his owner could sadly no longer take care of him. On his first few days at our centre he was understandably a bit wary and hid away but now that he has moved into our main cattery he is feeling much better. Upon first glance Binx seems a little shy but he actually loves having a fuss made over him and will headbutt you and purr away to let you know how much he's enjoying it! After a few minutes he even gets up out of his bed and he will chat away to you to tell you to give him more attention. We think that with a little time and encouragement in his new home Binx will grow in confidence and become a wonderful addition to his new family. Binx has previously lived with another cat so we think that he should be fine to live alongside another resident feline and possibly a laid back dog. We would also love for Binx to have the chance to explore the great outdoors once his has found his paws in his forever home.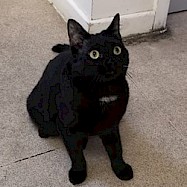 Zippy
Male - 1 yr old
This handsome cat came into our care due to a change in his owners circumstances. Zippy has developed an allergy to certain foods which presents itself as hair loss and scabs on his face and ears. We have found Wainwrights food has settled his skin, therefore he would need to continue this diet in his new home. Zippy has become a little protective over his bedroom and has occasionally swiped at staff members. However out of the bedroom he is a completely different cat, he loves nothing more that a tickle on his head, running over to staff and volunteers for some attention. He can easily be handled, he doesn't mind being picked up and he was the perfect patient when we were rehabilitating him due to his skin condition. Zippy is full of energy and we regularly let him out of his pod to run around the cattery to try and burn him out. He runs around playfully tormenting all of the other cats stopping to bat toys around and playing with his favourite toy, a feather chaser. If he isn't playing with his chaser he will be carrying around his elephant teddy bear in his mouth or wrestling with it! Zippy is quite a livewire so he would be better suited to a household with older children. Zippy has previously lived with cats so could possibly live with another laid back cat, or a friendly dog that is used to living with cats. Zippy would also need a safe outdoor space to burn up all his energy when he is ready.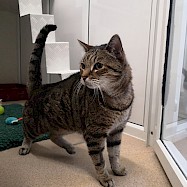 Dexter
Male - 8 yrs old
Dexter is with us because his owner was moving to another property which did not allow pets. Dexter has a fatty lump on the top of his head, it has been checked over by the vets and found not to be sinister. This does not affect him in any way, only adds character! He is an adorable boy, charming everybody that meets him. He loves nothing more than a good sleep but will rise from his slumber when tickles are on offer, quickly followed by purrs and a bit of dribble! Dexter would make the perfect addition to any household, he could live with another friendly cat or dog that is used to having cats around. Dexter would also need a safe outdoor space to explore if he wishes to.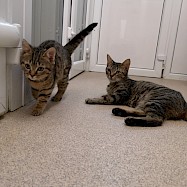 Sugar & Spice
Mother & Daughter
This inseparable mother and daughter duo are looking for a special home together. The pair came in via our inspectors as strays. Sugar is a 15 month old tabby mother to little Spice her 13 week old tabby kitten. Sugar is a doting mother to Spice never letting her out of her sight, when Spice does sneak off out of sight, Sugar calls until Spice reappears. They are both very playful often toy fighting together or running around batting mice or feathery toys to one another. The girls are firm favourites amongst all of the staff and volunteers because of their sweet nature. The girls would need to be the only cats in the household but could live with a friendly dog that is used to having cats around. They would also need a safe outdoor space to explore when Sugar is ready and Spice is old enough to venture out.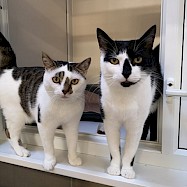 Maxi and Lucy
Male and Female - 7 yrs old
This 7 year old duo, Maxi and Lucy are looking for a home together after coming into our care through no fault of their own. They are both very loving, greeting everyone with head bumps and circling around your legs as soon as you enter the pod. Lucy loves her igloo bed but she does like to sprawl in the most random locations and positions such as over her cat tree with both legs dangling down from either side! Maxi is very laid back he is just happy taking a little nap next to Lucy waiting for someone to come in and give him another head scratch. When they have finished snoozing they chase each other around their pod playfully stalking and pouncing on each other! The pair would make perfect family pets, they love being around people and it wouldn't be long until they are curled up on the sofa with you. They could possibly live with another laid back cat or a friendly dog that is used to living with cats. A safe outdoor space would be needed if the pair wish to venture outside in between cuddles!