The following is a list of our CATS. Cats of all ages available for adoption, up to 60 available. All cats will be health checked, neutered/spayed, vaccinated and microchipped before being rehomed.
Please read about Adopting one of our animals before enquiring.
Cats and Kittens available for Adoption: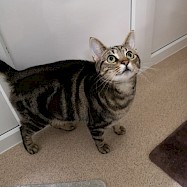 Fefe
Female - 2.5 yrs old
Gorgeous tabby and white Fefe is looking for her forever home. She has been in with us for a few months since a previous adoption fell through due to changes in personal circumstances, so understandably she is feeling a little bit sad. Fefe used to be at the window of her pod greeting passers by asking for a stroke and she was very hard to resist. Now Fefe spends a lot of her time in bed and we want nothing more than to see her back to her chirpy little self again! Fefe has previously lived with other cats and she could possibly live with a laid back dog that is used to having cats around. She would also need a safe outdoor space to explore when she feels ready to.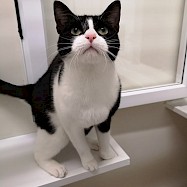 Flash
Male - 1 yr old
This handsome devil is Flash. Unfortunately this is his second visit to our centre. He was returned to us through no fault of his own as his previous owner became allergic to him. Flash is very confident and full of beans! He is always entertaining himself playing in his pod and peeping inquisitively at his fellow neighbours. He is extremely friendly enjoying lots of attention running to the door when he has company. This lively chap needs a safe outdoor space to burn up all of his energy. He could live with another cat and possibly a friendly dog that wouldn't mind a feline friend.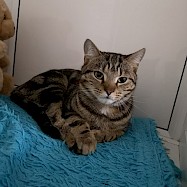 Starsky
Male - 18mths old
Starsky is a gorgeous tabby with a beautiful rounded face. Starsky has had a rough couple of months, he was initially brought into our centre via an inspector as he had been abandoned. He was then adopted from us but unfortunately he didn't get on with the resident cat so was returned to us. Now Starsky is looking for his forever home, ideally with no other cats so he can rule the roost! Starsky can appear shy at first usually hiding but comes out to get lots of cuddles and kisses.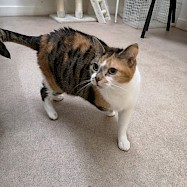 Bonny
Female - 6 yrs old
Bonny can be a bit of a madam enjoying a fuss on her terms and when she has had enough she will let you know. An experienced cat owner would be ideal. This being said Bonny has made a big improvement since she has come in and has begun to trust us. Bonny has been with us a number of months so is understandably bored of being in the cattery, she will love nothing more than a house to rule and to lose some of her 'kitten fat' roaming the great outdoors. Bonny is an independent lady that doesn't enjoy the company of other cats, so will be much happier on her own so she can have everyone's undivided attention. She is looking for a quieter home with older children and no dogs to contend with!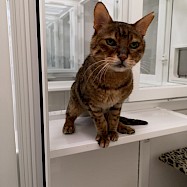 Tiggy
Male - 15 yrs old
Tiggy is a firm favourite of all of the staff. He is a gorgeous 15 year old Bengal and he came into our centre in a bit of a sorry state suffering from cat flu. He now has the all clear but it has now come to light he has kidney disease due to his age, therefore he would need to be kept on a renal diet. He is also on medication that he will need to continue for the rest of his years. Tiggy is a lovable boy, typical talkative Bengal with a lot of love to give. He is extremely confident, loves to be around people and is very charming! He would love to spend his last couple of years cuddled up with his new family with tickles on demand. Tiggy would make the perfect family pet and would happily live alongside another cat or a laid back dog.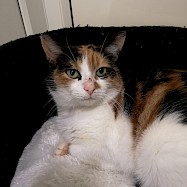 Mairi
Female - 3 yrs old
Mairi was brought in by one of our inspectors as a stray along with her kitten. This young lady would love to find a warm, comfy, loving home to finally call her own. Mairi is a little timid in our cattery, but does have a sweet nature letting you fuss her but is still a little bit wary. Mairi could possibly live with another cat or possibly a laid back dog that is used to having cats around. Access to a safe outdoor area is essential when she is ready to venture out!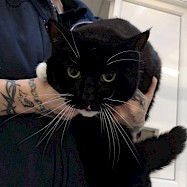 Teddybear
Female - 3yrs old
Teddybear is a beautiful, chunky pussycat. Unfortunately she came into our care after her owner passed away. Naturally her move into our centre has been quite a scary experience for her. She is quite timid and does like to hide, but with a lot of love and trust we definitely think this will change! Teddybear has previously lived with other cats therefore could live with another cat. She could also be suitable to a home with a dog who has previously lived with a cat. Teddybear will also need the option to wander outside in his new home, so a safe outdoor space would be ideal.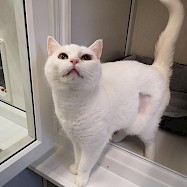 Daisy
Female - 4 yrs old
Daisy is looking for a new home, sadly due to her owner passing away. She is a very affectionate chunky girl, immediately greeting you with a cuddle and kiss upon entering her pod. Daisy loves head tickles, closing her eyes with enjoyment and head butting you to ask for more once you stop. Daisy has a blocked tear duct, this does not cause her any pain but it is essential that her eye is bathed regularly to reduce staining her lovely white fur! Daisy has previously lived as an indoor cat but would possibly like the chance to explore the great outdoors. Daisy could live with another cat and possibly a laid back dog that is used to having cats around.