The following is a list of our CATS. Cats of all ages available for adoption, up to 60 available. All cats will be health checked, neutered/spayed, vaccinated and microchipped before being rehomed. 
Please read about Adopting one of our animals before enquiring.   PLEASE BE AWARE THAT SOME OF THE CATS AVAILABLE MAY HAVE RECENTLY BEEN RESERVED - YOU WILL NEED TO CHECK FIRST WITH OUR ANIMAL CENTRE FOR UP-TO-DATE INFORMATION.
Cats and Kittens available for Adoption: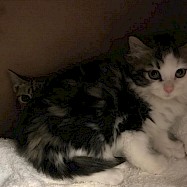 Beryl and Myrtle
Female - kittens
SPECIAL APPEAL Beryl & Myrtle need a special home with someone who has experience with very nervous/semi-feral cats. A quiet home with no children. Beryl and Myrtle were found by staff in B&M's warehouse and taken to vets. They have been with us now for several weeks & are very slowly getting used to the staff. If you think you can offer this beautiful pair of kittens a forever home please contact our animal centre directly Tel 01706 861897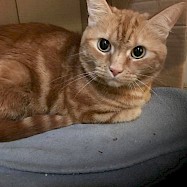 George
Male 3 yrs old
George came into our care via an inspector from a multi cat household where his needs weren't being met. He is quite shy and likes to stay in his bed most of the time. He does venture around his pod at night when it is quiet in the cattery and is slowly getting used to the staff being around. Because of his timid nature he could be rehomed with older children that understand he needs a bit of space to settle. George could possibly live with another feline friend or a friendly dog that is used to being around cats. He would also need a safe outdoor space to explore when he feels ready.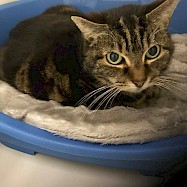 Marley
Female - 15 years young!
Marley is a lovely 15 year old tabby girl. She came in via one of our inspectors as her previous owner could no longer take care of her. She was very shy at first and didn't want much human attention but over time she has become more comfortable with us and greets us as we enter her pod. Marley would love a quiet home where she can come out of her shell in her own time. She is currently on a special renal diet as her kidney levels are slightly elevated, so she will need to continue this diet into her new home. Marley would love a home to retire in cuddled up on the sofa getting some well deserved TLC.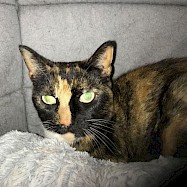 Lilly
Female - 8 yrs old
Lovely 8 year old Lilly was adopted from us a few years ago and has unfortunately had to return through no fault of her own. She was brought in with her brother and while they were housed together she would not come out of her bed. We have since separated them and her lovely personality has begun to show. She now comes out of her bed and likes to peer into the cattery intrigued to see what's going on outside. She comes to the staff for strokes but does run to her bed sometimes if there are any loud noises. Although Lilly didn't get on with her brother she could possibly live with another laid back feline friend or a dog that is used to living with cats. She would also need a safe outdoor safe to explore when she feels ready.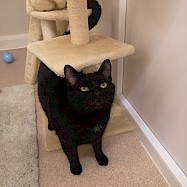 Micky
4 yrs old
See 'Junie' for information