The following is a list of our CATS. Cats of all ages available for adoption, up to 60 available. All cats will be health checked, neutered/spayed, vaccinated and microchipped before being rehomed. 
Please read about Adopting one of our animals before enquiring.   PLEASE BE AWARE THAT SOME OF THE CATS AVAILABLE MAY HAVE RECENTLY BEEN RESERVED - YOU WILL NEED TO CHECK FIRST WITH OUR ANIMAL CENTRE FOR UP-TO-DATE INFORMATION.
Cats and Kittens available for Adoption: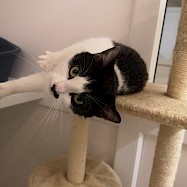 Junie and Micky
Both 4 yrs old
Junie and Micky are both 4 years of age, they came into our centre as their owner could no longer care for them. Both cats came in with FAD which is an allergy to fleas that resulted in itchy skin and some scabs on their body. This has now cleared with medication and routine flea treatment, therefore flea treatment must be kept up to date in their new home. The pair are very friendly and would make a lovely addition to any home. They can be a little nervous at first but once they know they can trust you will see their sweet personalities emerge. The pair love to be stroked and made a fuss of, they both roll around the floor taking as much attention as they can get! They are both very inquisitive so would love a safe outdoor space to explore together.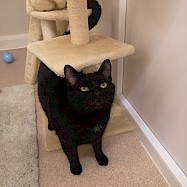 Micky
4 yrs old
See 'Junie' for information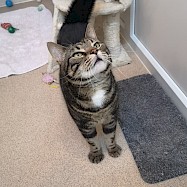 Tiger and Sammy
Both Approx. 6 yrs old
Tiger and Sammy came into our care via an inspector as they were living in unsuitable conditions. Tiger is the most confident of the pair he hides in his bed until he hears people approaching. He then leaps out for fusses and rubs round your legs whilst purring with appreciation. Sammy is a little more nervous he stays in his hidey bed but loves a fuss and his favourite thing is a bum scratch! We do believe it won't take them long to come out of their shell and gain confidence when they learn to trust their new owners. Due to their shy nature a home with older children would be more suitable to give them the space they need to settle in.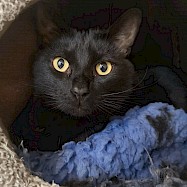 Sammy
Approx. 6 yrs old
See 'Tiger' for information.  To be rehomed together.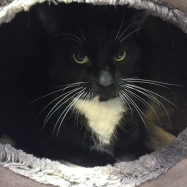 Percy
Male - 5yrs old
Percy is 5 years old and has been neutered.  He was given up by his owner along with 2 other cats.  He is finding the cattery a scary place and so hides in his bed most of the day.  He does enjoy a tickle and will eventually relax enough to reward you with a purr.  We would love him to find a home soon.  A quiet house would be best with older children so he can be given time to adjust at his own pace.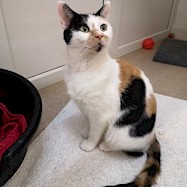 Delores
Female - 2 yrs old
Stunning 2 year old Delores was brought into our centre via an inspector as a pregnant stray. She has now finished all of her amazing motherly duties and looking for a forever home to enjoy herself. She is a firm favourite amongst the staff as she has a loving personality and adores human attention. She loves nothing more than a back scratch which she arches as far as she can go so you get every inch of her back! She is very playful and loves to chase and bat toys around her pod, as well as having a little cat-nap to recharge her batteries. Delores could possibly live with a friendly cat or laid back dog that is used to living with cats. She would love a safe outdoor space to explore when she is ready. Delores will need a spay but we will cover the full cost at our contract vets as soon as lockdown is over.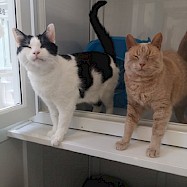 Sandy and Benji
Males - approx. 4-5 yrs
This inseparable duo are Sandy and Benji. The boys were brought in by an RSPCA inspector as they were found abandoned at a property.  They are extremely close so would need to go into a home together. They spend all day together curled up sleeping and we often see them grooming each other. The boys are extremely laid back and would suit any family. Benji is very outgoing and confident, whilst Sandy can be a little reserved at first but they both love a fuss. They have lived with cats before so could be rehomed with other feline friends, and due to their laid back nature they could possibly live with a friendly dog that is used to having cats around. They would love a safe outdoor space to explore when they are both ready. ​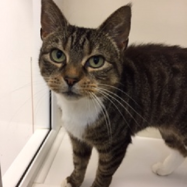 Molly
Female - 9yrs old
Molly is 9 years old and a very affectionate lady.  She runs to greet us in the mornings and loves attention.  She came in with 4 other cats after the owner became too ill to look after them.  Molly will need a dental and spay which we will cover the cost of at our vets once they are doing operations again.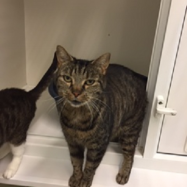 Tigger
Male - 8yrs old
This is Tigger - an 8 year old neutered male.  He has the softest fur and loves a fuss.  He will need a dental as he has a broken fang so we will cover the cost of this once our vets resumes operations.  He is very confident and would suit most families with or without other cats.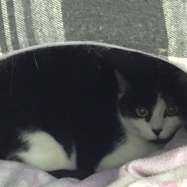 Haven
See Harbour
Harbour are Haven are to be rehomed together :)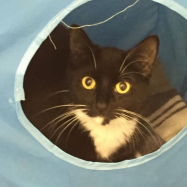 Harbour and Haven
Approx 1-2 yrs old
These 2 beauties were brought in by an inspector in early April after a member of public found them in a carrier at the side of the canal.  They were terrified at first but Harbour has slowly gained in confidence choosing to try out all the different beds in their room.  Haven will need a little more patience even though she does venture out when she thinks you are not there!  They are only about 12-18 months old so need to be in a home as soon as possible to enjoy the life that a loved pet should have.