The following is a list of our CATS. Cats of all ages available for adoption, up to 60 available. All cats will be health checked, neutered/spayed, vaccinated and microchipped before being rehomed. 
Please read about Adopting one of our animals before enquiring.   PLEASE BE AWARE THAT SOME OF THE CATS AVAILABLE MAY HAVE RECENTLY BEEN RESERVED - YOU WILL NEED TO CHECK FIRST WITH OUR ANIMAL CENTRE FOR UP-TO-DATE INFORMATION.
Cats and Kittens available for Adoption: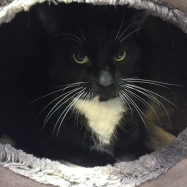 Percy
Male - 5yrs old
Percy is 5 years old and has been neutered.  He was given up by his owner along with 2 other cats.  He is finding the cattery a scary place and so hides in his bed most of the day.  He does enjoy a tickle and will eventually relax enough to reward you with a purr.  We would love him to find a home soon.  A quiet house would be best with older children so he can be given time to adjust at his own pace.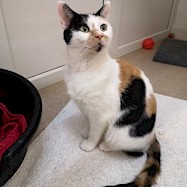 Delores
Female - 2 yrs old
Stunning 2 year old Delores was brought into our centre via an inspector as a pregnant stray. She has now finished all of her amazing motherly duties and looking for a forever home to enjoy herself. She is a firm favourite amongst the staff as she has a loving personality and adores human attention. She loves nothing more than a back scratch which she arches as far as she can go so you get every inch of her back! She is very playful and loves to chase and bat toys around her pod, as well as having a little cat-nap to recharge her batteries. Delores could possibly live with a friendly cat or laid back dog that is used to living with cats. She would love a safe outdoor space to explore when she is ready. Delores will need a spay but we will cover the full cost at our contract vets as soon as lockdown is over.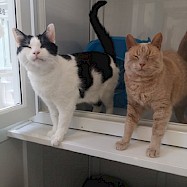 Sandy and Benji
Males - approx. 4-5 yrs
This inseparable duo are Sandy and Benji. The boys were brought in by an RSPCA inspector as they were found abandoned at a property.  They are extremely close so would need to go into a home together. They spend all day together curled up sleeping and we often see them grooming each other. The boys are extremely laid back and would suit any family. Benji is very outgoing and confident, whilst Sandy can be a little reserved at first but they both love a fuss. They have lived with cats before so could be rehomed with other feline friends, and due to their laid back nature they could possibly live with a friendly dog that is used to having cats around. They would love a safe outdoor space to explore when they are both ready. ​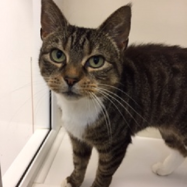 Molly
Female - 9yrs old
Molly is 9 years old and a very affectionate lady.  She runs to greet us in the mornings and loves attention.  She came in with 4 other cats after the owner became too ill to look after them.  Molly will need a dental and spay which we will cover the cost of at our vets once they are doing operations again.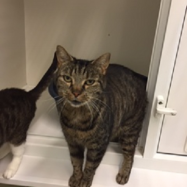 Tigger
Male - 8yrs old
This is Tigger - an 8 year old neutered male.  He has the softest fur and loves a fuss.  He will need a dental as he has a broken fang so we will cover the cost of this once our vets resumes operations.  He is very confident and would suit most families with or without other cats.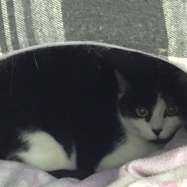 Haven
See Harbour
Harbour are Haven are to be rehomed together :)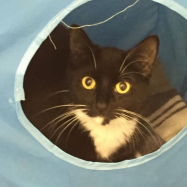 Harbour and Haven
Approx 1-2 yrs old
These 2 beauties were brought in by an inspector in early April after a member of public found them in a carrier at the side of the canal.  They were terrified at first but Harbour has slowly gained in confidence choosing to try out all the different beds in their room.  Haven will need a little more patience even though she does venture out when she thinks you are not there!  They are only about 12-18 months old so need to be in a home as soon as possible to enjoy the life that a loved pet should have.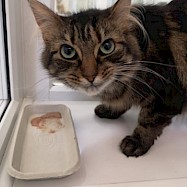 Lulu-Belle
Female - 3 yrs old
The gorgeous Lulu-Belle came in to our animal centre as her owner was taken into hospital and could no longer care for her. She has come from a very loving home. Lulu-Belle is long haired so she would need regular grooming to stop her from getting any matts. She loves human attention, peering at staff with her gorgeous green eyes hoping they are coming in to fuss her! She can be quite nervous at first so she would be better suited to a home with children that are cat savvy, and will let her settle in her own time. Lulu-Belle would need a home with a safe outdoor space which she can explore when she is ready. She has previously lived with cats so she wouldn't mind living with another resident feline. She could possibly live with a friendly dog that is used to living with cats.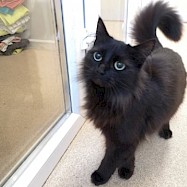 Milly-Mae
Female - 3 yrs old
Milly-Mae came in to our animal centre as her owner was taken into hospital and could no longer care for her. She is 3 years old and very sweet natured. Due to her having a long coat she would need regular brushing to keep on top of her gorgeous coat. She loves a good fuss but can be a little skittish, therefore she would like a home with older children who can let her settle in her own time. Milly-Mae has lived with other cats so can be rehomed with another cat, she could possibly live with a friendly dog that is used to having cats around. She would also need a safe outdoor space to explore when she feels ready.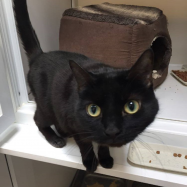 Gwin
Female - 4yrs old
Gwin is 4 years old and very confident.  She has lived with other cats and would suit almost any family.  She is craving attention and loves a fuss.  She will need neutering and we will cover the full cost when our vets resume operations.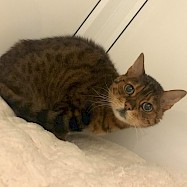 Carrie
Female - 17yrs old
This golden oldie is our 17 year old stunner Carrie! She came into our care when her owners' sadly passed away and up until now she has been a very much loved family pet. She's understandably a little upset being in our cattery. Carrie is a sweet lady who is really vocal and she will happily chat away to you whilst you talk to her and will even shout at you through the glass for some attention! She can be a little hand shy initially but it doesn't take long before she's rubbing herself on you for some attention and purring. She isn't a girl who needs masses of exercise so she would be suitable to be adopted as a house cat. She tends to have a bit of a walk around and a roll in some cat nip before taking herself off for an afternoon nap. In typical Bengal style Carrie is a lady who very much knows her own mind and has made it very clear that she doesn't like other cats so we would like for her to go to home where there are no other cats and where there are no young children. She's looking for a retirement home where she will be queen of the castle.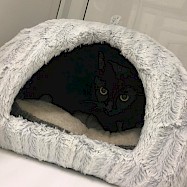 Krinkle
Male - 2 yrs old
Krinkle came to us via one of our inspectors when his owner could no longer take care of him. He has previously lived with other cats and dogs but since moving into our cattery he has been a little stressed so we think that any cats in his new home will have to be very laid back. He's a real chatterbox and can be heard meowing all the way from our reception area! Krinkle has become quite protective over his bedroom and has started to lash out at members of staff so we think that an adult only home would be best for him. However once he is out of his bedroom and on the floor of his pod, he becomes a softie! He loves attention and will wrap himself around your legs until you stroke him. Krinkle also loves to play and he will happily fling his toys around his pod and play on his scratch post to burn off some of his energy. We think that once he has found his paws in his forever home, Krinkle would love a garden to play in. We think that Krinkle may take a little time to settle in his new home but once he does, we are sure that he will become a great addition to his new forever home.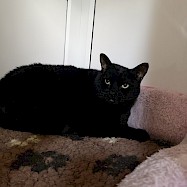 Missy
Female - 10 yrs old
Missy came into our care when her owner was moving house and could not take her to the new property. Missy was a chunky 7.65kg when she arrived, so understandably she has been on a diet and has lost 1.12kg so far! She still has a bit to lose so weight loss food would have to be continued until she reaches an ideal weight. Missy was very shy at first and rarely moved from her bed. Since losing some weight she seems much happier, often seen sat on her shelf peering out of the window at passers-by and also going for a little wander around the cattery. Missy is looking for a quiet home with older children and preferably the only cat in the household. She would benefit from a safe outdoor space to explore and continue her journey to losing the extra weight!