The following is a list of our CATS. Cats of all ages available for adoption, up to 60 available. All cats will be health checked, neutered/spayed, vaccinated and microchipped before being rehomed.
Please read about Adopting one of our animals before enquiring.
Cats and Kittens available for Adoption: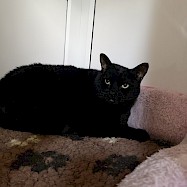 Missy
Female - 10 yrs old
Missy came into our care when her owner was moving house and could not take her to the new property. Missy was a chunky 7.65kg when she arrived, so understandably she has been on a diet and has lost 1.12kg so far! She still has a bit to lose so weight loss food would have to be continued until she reaches an ideal weight. Missy was very shy at first and rarely moved from her bed. Since losing some weight she seems much happier, often seen sat on her shelf peering out of the window at passers-by and also going for a little wander around the cattery. Missy is looking for a quiet home with older children and preferably the only cat in the household. She would benefit from a safe outdoor space to explore and continue her journey to losing the extra weight!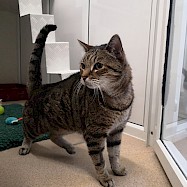 Dexter
Male - 8 yrs old
Dexter is with us because his owner was moving to another property which did not allow pets. Dexter has a fatty lump on the top of his head, it has been checked over by the vets and found not to be sinister. This does not affect him in any way, only adds character! He is an adorable boy, charming everybody that meets him. He loves nothing more than a good sleep but will rise from his slumber when tickles are on offer, quickly followed by purrs and a bit of dribble! Dexter would make the perfect addition to any household, he could live with another friendly cat or dog that is used to having cats around. Dexter would also need a safe outdoor space to explore if he wishes to.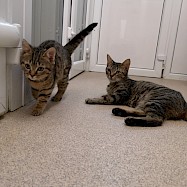 Sugar & Spice
Mother & Daughter
This inseparable mother and daughter duo are looking for a special home together. The pair came in via our inspectors as strays. Sugar is a 15 month old tabby mother to little Spice her 13 week old tabby kitten. Sugar is a doting mother to Spice never letting her out of her sight, when Spice does sneak off out of sight, Sugar calls until Spice reappears. They are both very playful often toy fighting together or running around batting mice or feathery toys to one another. The girls are firm favourites amongst all of the staff and volunteers because of their sweet nature. The girls would need to be the only cats in the household but could live with a friendly dog that is used to having cats around. They would also need a safe outdoor space to explore when Sugar is ready and Spice is old enough to venture out.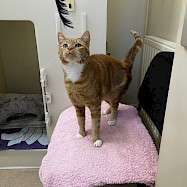 Amber
Female 10yrs+
This beautiful ginger female is Amber. She was originally with us as a kitten but has been returned to our care as her owner could no longer look after her. Amber was very nervous of staff upon arrival and hid in her bed. We have given Amber a larger, quieter room to help her come out of her shell. Since then she has gradually become more comfortable around our staff and volunteers. Amber is very independent and likes to do things on her terms. She is very playful and her favourite thing to do is play with a feather chaser. When she is used to you she will wrap around your legs and if you are very special you will receive some loving headbutts! She enjoys being stroked with a chaser toy, but doesn't quite like to be stroked by hand yet. Amber has previously lived with a cat and could possibly live with a friendly dog that is used to having cats around.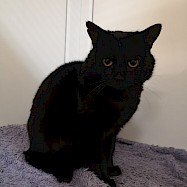 Stig
Male - 4 yrs old
This chunky faced boy is Stig. He came into our care as his previous owner could no longer provide him with the care he needs. He is quite a shy boy and has come a long way since he first came in to us. He used to cower in the corner of his pod, but now he seems much happier and he has begun to trust us. He loves a good stroke and especially a tickle behind the ear. Stig would prefer a quiet home with adults or older children where he will have the chance to settle in his own time. In time we think Stig would make the perfect loyal companion happily taking a cat nap on a comfy sofa or even your knee if you're lucky! He could possibly live with another laid back cat or dog that has lived with cats before.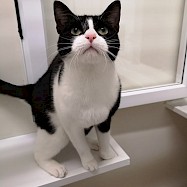 Flash
Male - 1 yr old
This handsome devil is Flash. Unfortunately this is his second visit to our centre. He was returned to us through no fault of his own as his previous owner became allergic to him. Flash is very confident and full of beans! He is always entertaining himself playing in his pod and peeping inquisitively at his fellow neighbours. He is extremely friendly enjoying lots of attention running to the door when he has company. This lively chap needs a safe outdoor space to burn up all of his energy. He could live with another cat and possibly a friendly dog that wouldn't mind a feline friend.