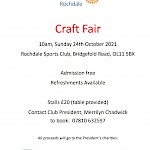 Sunday 24th October 2021 - 10am
at Rochdale Sports Club, Bridgefold Road, OL11 5BX

Supporting Local Charities including RSPCA Rochdale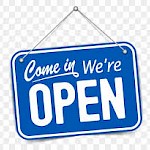 After a long wait our Heywood shop has now reopened !
We are relaunching the shop as a furniture and household shop and we wil have a range of books, DVD's and CD's, bedding, curtains and cushions and bric-a-brac.

Call in today.......
36, Market St, Heywood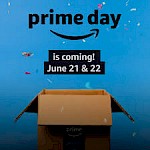 Please use Amazon Smile (choosing RSPCA Rochdale) for your Amazon purchases - we get a donation with no cost to yourself !

All Prime members who activate AmazonSmile in their Amazon mobile app between now and the end of Prime Day will generate a 10x donation (that's 5%!) on their first AmazonSmile-eligible purchase on Prime Day. If one of your supporters buys a £500 TV on Prime Day using this special AmazonSmile offer, they will generate a £25 donation for Royal Society For The Prevention Of Cruelty To Animals - Rochdale And District Branch, at no cost to you or them!

Furthermore, we're doubling all donations (1% instead of 0.5%) that Prime members generate while doing their shopping with AmazonSmile during the Prime Day event. For full terms and conditions, please visit About AmazonSmile.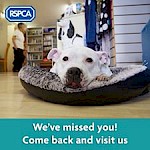 After an awful year for businesses, we are slowly re-opening our charity shops.
We'd love to see you again!
Milnrow - open from 6th May /
Whitworth - open from 4th May /
Todmorden/Littleborough/Middleton - open from 15th April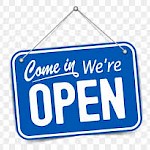 We look forward to seeing all our customers again.
We have a selection of clothing at just £1 and lots more bargains for all the family.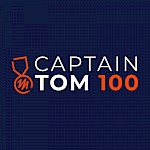 The Captain Tom 100 is offering everyone the chance to take on their own challenge, and to raise funds for the charity of their choice.
All you need to do is dream up a Captain Tom 100 challenge based around the number 100 and do it at any time and anywhere over Captain Tom's birthday weekend - starting on Friday, 30 April through to Bank Holiday Monday, 3 May. The challenge could be walking 100 steps or running 100 metres, scoring 100 goals, baking 100 cakes, climbing 100 stairs, hopping 100 laps of the garden, building 100 sandcastles, writing a 100-word poem, flipping 100 pancakes - anything at all, inside or out.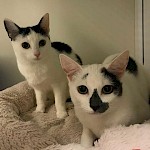 The phased reopening of our shops starts this Thursday - 15th April.

Middleton - Middleton Gardens
Littleborough - Harehill Road
Todmorden - Burnley Road (opp the market)
Shop opening times are
9.30am - 4.00pm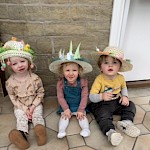 Fisherfield Childcare nurseries within the Bury and Rochdale borough's have been working together to raise money towards their chosen charity the RSPCA – this is what they said.... "in March as a company we donated £1220. This money was raised by children, parents and staff taking part in, and organising various fundraising activities and events in each setting including valentines sweets and treats and a come dine with me (organised by the nursery cooks) world book day story sacks, cake sales, pancake day home bake kits, mothers day luxury afternoon tea and self-care hampers, a sponsored welly waddle, a colour fest, a sponsored sports week and lots of fun activities leading up to Easter including Easter bonnet parades and Easter egg hunts in our nursery gardens! We have lots more exciting ideas for activities and events to take part throughout the remainder of the year where we can hopefully raise even more money for the RSPCA and help to make a difference to the lives of our furry friends and companions!"

Cherine Rasul
Nursery Manager
The Gables
34 Bagslate Moor Road, Bamford, OL115XT
01706-352000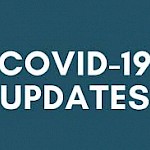 We will begin a staged re-opening of our shops from the 12th April 2021.
Please look back here or our Facebook/Instagram pages for more updates.

If you have donations we can collect (please be aware we are booked up until after the Easter weekend).
To arrange a collection please phone 07825 618181

PLEASE do not leave donations outside our shops whilst they are closed.