We usually have a selection of small animals available but please check with the Animal Centre first
Ferrets
Guinea pigs
Hamsters
Rats/mice
Gerbils
Budgies
Please read about Adopting one of our animals before enquiring.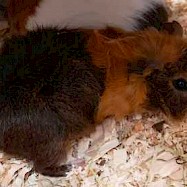 Mo and Barney
Juvenile and Adult
Barney (Abyssinian- tri- colour) and Mo (white/brown) came into our care after being removed from a house with a high number of guinea pigs. The gorgeous boys are neutered, but we are unsure of their age. Mo is a juvenile and Barney is an adult guinea pig. The pair were shy at first, but have come out of their shell whilst being in our care. You will normally find them joined at the hip under their house, but thy soon rush out when they know we are on the way with some fresh veggies!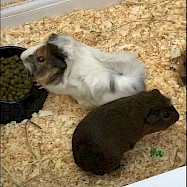 Bart and Homer
Males - age unknown
This lovely pair came into our care from a house over-run with guinea pigs. Bart (Abyssinian- white/ tri- coloured) is usually seen scuttling around their pen. Homer (brown- white rosette on head)is usually in tow not so far behind! The boys love veggies and are partial to a slice of orange, which is followed by a duet of loud wheeks letting you know their appreciation. Both of these males are neutered and have had a health check by a vet.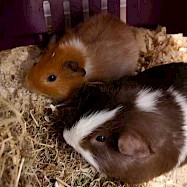 Lenny and Karl
Males - age unknown
Lenny (white/brown) and Karl (ginger/white) came into our care from a house overrun with guinea pigs and they were unable to give them the loving care they need. The boys are quite timid but with extra love and care we are sure they will come out of their shell in no time! The boys love nothing more than munching on some fresh veggies and diving through a big pile of hay. Both males have been neutered and had a health check by a vet.