We usually have a selection of small animals available but please check with the Animal Centre first
Ferrets
Guinea pigs
Hamsters
Rats/mice
Gerbils
Budgies
Please read about Adopting one of our animals before enquiring.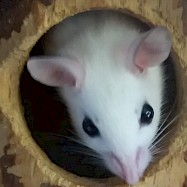 Mice !!
To be rehomed in same sex pairs
We have 20 mice! available for adoption.  They are currently living in smaller groups Group 1 - 4 boys Group 2 - 5 boys Group 3 - 4 girls Group 4 - 2 boys Group 5 - 2 boys They are all looking for homes - the groups can be split but ideally they would need to be adopted in pairs (same sex). Please contact our animal centre directly if you would like to adopt Tel 01706 861897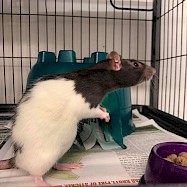 Trixie and Pixie
Female Rats
Trixie and Pixie are super cute rats who came into our care when they were picked up by an inspector. They had been dumped in their cage by the side of the road! We would like these girls to stay together in their new home as they are really close and love to snuggle up together. Trixie is light grey and is the more shy of the two and Pixie (in photograph) is dark grey and white and is really confident. She often runs straight over to greet us when we open the cage door. The girls will need a big cage with plenty to explore and Trixie would benefit from some socialisation to make her more confident around people.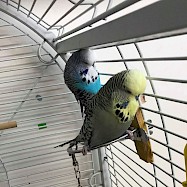 Jeremy and Boris
Meet Jeremy and Boris! These two male budgies came to us when their owner could sadly no longer take care of them. Unlike the politicians, this pair love each others' company and like to sit side by side where they sing to each other! Jeremy and Boris are looking for a home where they will have plenty of stimulation to keep them occupied and they will need to live in an indoor cage (Jeremy, who is green/yellow and white has an old injury to one of his wings which means he can't fly properly). Jeremy still loves to explore his cage and have a nosey with his best buddy Boris.