Rabbits can make lovely pets, but need a lot more care and attention than people realise. Advice will be given on suitable accommodation and care. Please contact the animal centre for details.
Please read about Adopting one of our animals before enquiring.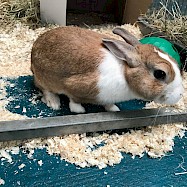 Peter
Male adult rabbit
Peter is a sweet little rabbit who originally came into our care when he was found living stray. After being neutered he was adopted to a home with another rabbit but after weeks of trying to bond the pair, the resident female rabbit was sadly not making any progress and kept attacking him! So Peter was returned to our centre to once again look for a home! Peter is quite a laid back chap and likes to hop over to you to say hello. He quite likes being stroked and is okay to be held for a short time. We are sure that once he has settled in his forever home more and more of his sweet personality will emerge! Ideally we would love for Peter to go a forever home where he will have another rabbit companion.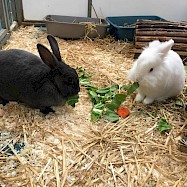 Oliver and Lily
Oliver and Lily are an adorable pair of rabbits who are looking for their forever home together. The pair came to us from our animal hospital after they were taken in separately by inspectors. After slow introductions, the pair have successfully bonded and now love each other! Oliver is a stunning white Lionhead male who has an old injury on his nose. He also had a couple of old injuries to his toes which could have been caused by fighting with another rabbit. Thankfully he has met the love of his life in Lily and is much happier! Lily is a large grey female who is certainly the boss of the pair! Wherever she goes, Oliver isn't far behind! Lily is super cheeky and likes to try and escape from their pen to have a nosey at what's going on! The pair are super sweet and will happily come running over to you to see if you have any treats for them and are happy to let you stroke them. They aren't overly keen on being picked up so they will need more socialisation in their forever home. We would love for them to have a safe outdoor run so that in summer months they can be treated to sunshine and fresh grass!