Rabbits can make lovely pets, but need a lot more care and attention than people realise. Advice will be given on suitable accommodation and care. Please contact the animal centre for details.
Please read about Adopting one of our animals before enquiring.
Mary Hoppins
Female, Adult
Meet Mary Hoppins! This lovely girl does not require any spoonfuls of sugar as she is most definitely sweet enough as she is. She is confident and friendly and loves nothing more than a run around and to play with her toys or with her cardboard box. When rabbits are kept correctly, they make excellent pets and we are here to offer lots of advice and support to anyone who is willing to give this girl her second chance at a forever home.

Mary Hoppins is a bunny that is quite happy living as a solo rabbit, as long as she gets lots of human interaction. She is therefore the perfect addition to a household who are venturing into the world of owning a rabbit for the first time and don't have an existing rabbit at home already. She is happy being held and is a pleasant natured bun. What is not to love?!

If you could be the Bert to this Mary Hoppins, then we want to hear from you! Mary POPPins may have been the best nanny around, but Mary HOPPins is most definitely the best bunny in town! If you could offer her a forever home, that would be Supercalifrasgilisticexpealidocious!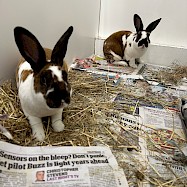 LeBun James & Prince Harery
Adult Males, Neutered
These two handsome bunnies just so happen to be as nimble as a basketball player and as noble as a prince….and they both on the lookout for a new place to call home! Could you be the one to help them find it? We sure hope so!
Whilst LeBun James is on the ball when it comes to seeking a new home, Prince Harery is a little more relaxed as he knows the right palace will come along at the right time. We definitely don't think these boys will be waiting long to find a new family, as they are both confident, friendly and entertaining. What is not to love?! Rabbits can make excellent pets when provided with the correct set up, so don't delay in becoming bunny parents as you really won't look back!
You may think that these lads being named after a famous basketball player and a royal prince forms quite a strange double act….however we promise you that your life will be forever richer for having these boys as part of your family. You will have 2 adorable boys that you will no doubt jump through hoops for after 10 minutes of meeting them and two more princes to enhance your kingdom and provide you with a happily ever after.
We have promised the boys that we will check the emails every day to see if anyone has come forward to adopt them…..could you be the first to make their day?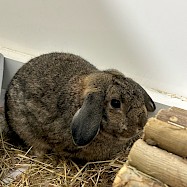 Fruit and Pastille
Adult, Male
Have you got room in your life for two lovely bunnies? If so, then they would love to meet you...and the presence of a Fruit Pastille makes everyone feel better right?!

Fruit and Pastille are a male pairing who have been within RSPCA care for over 100 days without any interest! We find this really sad as they are lovely boys and will make the most fabulous companions to whoever picks them out of the bunch to take them home. Could that special person(s) be you?

If rabbits are kept correctly, they make amazing pets and so don't delay in becoming bunny parents as you really won't look back! Both of these boys are handsome, nice natured and really do deserve a second chance at a forever home. Whilst you might think your life is sweet enough, Fruit and Pastille will most definitely inject a whole new lot of flavour and excitement into your life.

If you would like any more information, then please do get in touch. We would love to speak with you and we have told the boys that we will check the emails every day to see if anyone has got in touch in order to make their dreams come true.