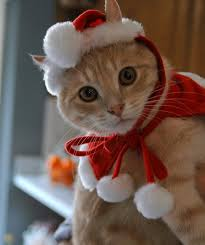 Almost a quarter (24%) of pet owners will be dishing up a plate of Christmas dinner this year, research* from the RSPCA has shown.
However the festive treat could backfire as many of the traditional Christmas trimmings are toxic for dogs and cats.
Last year more than a dozen dogs were admitted to RSPCA hospitals after being 'treated' to Christmas dinner by their owners.
Angela Grigg, manager at Putney Animal Hospital in London said: "We had 15 cases on Boxing day as a result of people giving their dogs their own Christmas dinner with turkey and stuffing.
"Turkey is very rich and stuffing contains onions which is not good for dogs. It caused them to have vomiting and diarrhoea and they became dehydrated. One or two of them were so severe they had to go on drips.
"The owners told us they were giving their dogs Christmas dinner as a treat but some human food can be toxic for dogs and in extreme cases could cause death.
"All of these cases were completely avoidable. If you want to give your dog a nice treat at Christmas take them for a lovely walk or if you want to give them something to eat buy them a special treat especially designed for dogs."
Festive foods which can be dangerous for pets •Splinters of poultry bones are dangerous to dogs and cats, as they can become stuck in their throats or even pierce their intestinal tract. •Grapes, raisins and sultanas contain a toxin which can cause kidney failure •Chocolate, the darker the more dangerous as it contains theobromine which can cause seizures, coma and heart failure. •Stuffing contains onions and garlic which can destroy red blood cells causing life-threatening anaemia •Seeds and stones from apples, apricots, cherries, peaches and plums contain a cyanide compound which can be poisonous •Broccoli, cauliflower, cabbage and peppers – contains toxins which could be deadly for horses •Nutmeg, high levels can result in seizures, tremors, centra
Published: 18 December 2013