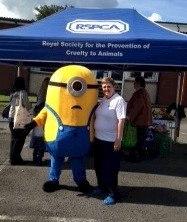 Funky Monkey Creations (Cheetham St., Rochdale) had a Fun Day
on Saturday 23rd August at the Brickcroft Social Club, Rochdale.
They lined up – A Bouncy Castle, Face Painting, Meet a Minion, Photos with a Tardis, Dalek and K-9 from Doctor Who, and lots more.
We joined them with one of our own stalls and raised £79 :)
Thanks to all the volunteers who helped. Chris turned up on her day off and took a liking to one of the Minions!
Published: 22 August 2014