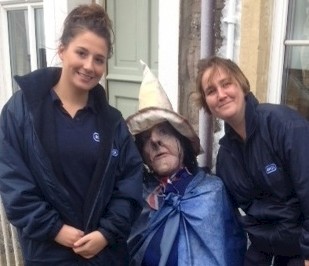 Chan Taylor (Deputy Animal Centre Manager) and Sally Pickup (Animal Care Assistant) braved a walk up (and a sleepover!) at Pendle Hill on Halloween to raise much needed funds for the Animal Centre. Pendle Hill has long been associated with witches and is one of the best known and well-documented examples of alleged witchcraft in 17th century England.
THEY RAISED A FANTASTIC £1,186.65 Wow!
By all reports it was harder than they imagined and they WON'T be doing it again!
The only thing that kept them going was remembering who they were doing it for – the animals in our care who have no-one else to look after them.
If you missed your chance you can still donate
Published: 5 November 2014