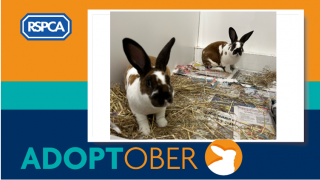 The RSPCA Adoptober campaign is conducted in the hope of getting more people to consider adopting and fostering, as well as trying to highlight some of the amazing animals that are currently looking for a home. Here at Rochdale, we regularly have lots of cats and rabbits that are eagerly anticipating a new home to call their own. We also sometimes have smaller mammals like guinea pigs available, as well as domestic birds! If you are therefore on the lookout for a new furry or feathered friend to add to your family tree, then please don't hestiate to have a look at the profiles of the animals that we have available and getting in touch should you feel there is one suitable for you and your situation. We are always happy to advise and match you to a new pet as an adoption needs to be right for the animal primarily but also for the new adopters too, as then then increases the chances of the adoption being successful long term.
At the moment, the cost of living crisis is having a large impact on everyone and as a result, many charities and industries have seen a change in peoples behaviour. Across the country for example, the RSPCA has seen a decrease in the number of people coming forward who are in a position to be able to adopt a pet and this is likely due to worries surrounding the cost of veterinary care and food - which is completely understandable. This decrease in adoptions has come at a time where all branches are seeing more animals coming into their care and so we are hoping that the national Adoptober campaign helps to match many animals to adopters who are fortunate enough to be in a position to consider adopting a pet. The campaign will also help to highlight the importance of doing lots of research prior to adopting as this then ensures an adopter is ready for what adopting an animal entails in both the short and long term.
Please do keep an eye on our website and social media accounts as we will regularly be posting residents looking for a new home here at Rochdale. The national RSPCA page will be doing the same too, for animals across the country that are struggling to find their happily ever after.
Published: 2 October 2023