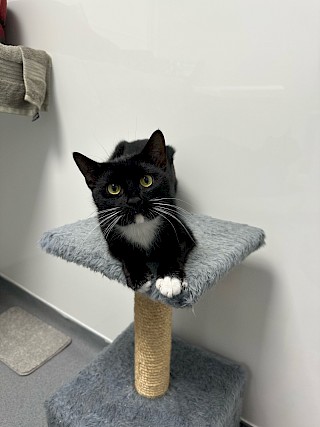 Today is the day that rescues up and down the country come together to celebrate the monochrome moggies that grace our lives - and highlight just how amazing they are! If this national campaign helps to get just one of these individuals their forever home, then it is 100% worth it. Life is much better when you have the luck of a black cat on your side – we promise!
Despite being amazing, black and black/white cats can often take the longest time to find a furever home within a rescue environment and we really cannot understand why! Coat colour has no impact on how much love a cat can give and even though we see more cats with these colourings coming into our care, each of them has their own unique personality, their own quirks and their own ability to be the most amazing feline friend.
To put things into perspective, a past study conducted by the RSPCA found that ginger cats took 19 days (on average) to find a home. Black cats however took an average of 30 days and black and white cats took an average 28 days!
If you can be the person(s) to make all the difference to the life of one of these beautiful animals, then we would love to hear from you. Please find a selection of our monochrome beauties that are all seeking their forever homes listed on the adoption section of our website. If you would like any additional information, then please feel free to email us at Enable JavaScript to view protected content.
Don't forget to take some time to celebrate your special feline friends today!
Published: 27 October 2023