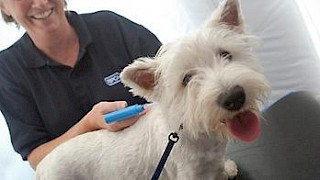 There will also be stalls selling refreshments & pet treats plus an Easter tombola & raffle.
Please ensure that all dogs are kept on a lead (muzzled if necessary) and under control whilst inside our animal centre.
All cats and small animals should be secure in a suitable pet carrier.
Please note: For health and safety reasons, if the Centre becomes too full at any one time, we will temporarily close the doors until space becomes available.
Microchipping Dogs is soon to become a legal requirement
From April 6 2016 it will be a legal requirement to have your dog microchipped in England.
From this time, all dogs currently not microchipped will have to be chipped and registered with a database compliant with the new regulations, such as Petlog. All breeders will need to microchip their puppies by the time they are eight weeks of age, and before they are transferred to a new keeper. The new keeper will also be responsible for updating the microchip with their details.
Failure to comply with the new regulations could result in a fine of up to £500.
Please make you that you have your dog microchipped before this date.
Apart from the fact it will be legal responsibility, how would you feel if your dog went missing? It is so much easier and quicker to get reunited with your pet if they are microchipped.
Published: 21 January 2016