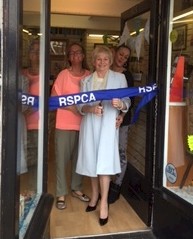 Congratulations to Shirley and her team of shops staff and volunteers who have helped in the organising the opening.
This is our 10th shop in the borough. There are 2 floors and the focus will be on furniture and home decor. Donations very welcome!!
Cutting the ribbon was one of our lovely volunteers – Marlene Oliver. She is pictured with our Shops Manager Carol and volunteer Anita.
Published: 9 May 2016