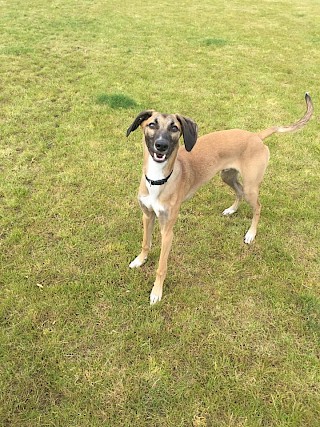 We have a super sweet boy residing at the centre looking for his forever home. Joey is a 10 month old Lurcher who originally came into our care at the end of 2017 when he and his littermates were dumped at our centre in a box. They were only around 8 weeks old and were extremely poorly and required round the clock care. Thankfully the puppies pulled through and went off to loving new homes, but sadly due to a change in his owners circumstances, Joey has found himself back at our centre.
At only around 10 months old, Joey is a typical puppy and as you can imagine he is full of energy! He loves nothing more than running around and playing with his toys. He knows basic commands such as 'sit' and 'paw' but his recall is something that needs to be worked on. He has improved since coming back to our centre and we are sure that with some consistency and a little more training, it shouldn't take him long!
Joey is extremely loving and absolutely adores people! His tail almost never stops wagging and he will happily come and sit by you, sometimes even on you, to make it easier for you to stroke him! He can get a little carried away and will sometimes jump up at you to greet you. He means absolutely no harm when he does this, he's just super excited to see you but we think that he would be best suited to a home where there are no small children.
Joey also loves other dogs. He will happily run around the playing field with them, quite often showing off how quick he is! He can get a little too excitable sometimes but seems to respond well when an older dog 'tells him off' and puts him in his place! He tends to back down and roll over to say sorry! We are happy to let Joey live with another dog and since he has previously lived with cats, we think he would be fine to go to a home where there are feline residents as long as they are used to being around dogs.
Joey really has stolen the hearts of all the staff and volunteers at the centre with his sweet, loving nature and we want nothing more than for him to find a home where he will receive the training and stimulation he needs. We think that he would be best suited to a home where he won't be left alone for long periods of time, simply because he gets bored! He will need quite a lot of exercise to help burn off his energy so quite an active household would be ideal. He has been good as gold when it comes to toilet training at the centre and we are hoping that this is something that will continue when he finds his forever home.
We are sure that with a bit of training and encouragement Joey will become a wonderful addition to a family! He has bags of love to give and really is a big sweetheart!
Published: 19 July 2018