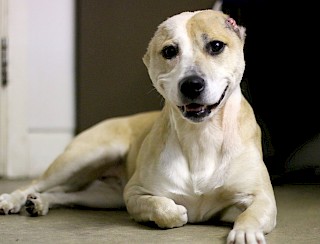 You may remember Beauty…she came into our care after having a fight with another dog in the family. She was horrifically injured and her owners made the heart-breaking decision to rehome her.
Beauty is now fully recovered and ready to find a new home. She doesn't appear to have any major hearing problems.
We are looking for a home where there are no other pets (cats or dogs).
She needs to have lots of exercise. We advise she should only be left alone for short periods (a maximum of 4 hours).
She is willing to learn and knows some basic commands but can become giddy so will need a confident owner to continue with her training.
Beauty is a loving dog who has stolen the hearts of all the staff and she will make a fantastic, loyal companion.
If you are interested in offering Beauty a home please call into our animal centre to meet her.
Published: 30 January 2015