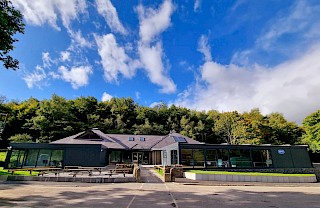 Our new address:
RSPCA Hollingworth Lake Animal Centre, Rakewood Road, Littleborough, Lancashire OL15 0AQ
On Tuesday 3 January 2023 the RSPCA's Rochdale Animal Centre animal welfare work will cease operating from its Redcross Street site after 83 years when it is transferred to Hollingworth Lake. The Rochdale branch of the RSPCA was established in 1890, operating across a number of local premises, before moving to the former Woodman Hotel on the corner of High Street and Redcross Street in 1939. The Rochdale RSPCA will be based at the former visitor centre which has undergone an extensive refurbishment and expansion and will be known as the Hollingworth Lake Animal Centre. The operation of the Rochdale charity shops will, in the meantime, continue to be managed from Redcross Street.
The former visitor centre, in the beautiful setting of Hollingworth Lake and the Pennine hills, has been transformed and enlarged into a state-of-the-art facility to house the many abused and abandoned domestic animals and wildlife casualties which are brought to the animal centre by RSPCA Inspectors.
They then receive vet treatment and rehabilitation before being rehomed or released back into the wild. The branch has taken in around 700 animals in the last twelve months. In the last 10 years the centre has rescued, rehabilitated and rehomed over 6000 animals and birds and look forward to many more years of promoting animal welfare in the area.
Chair of Trustees David Canavan said, "On 3rd January our work caring for animals will move to our new centre at Hollingworth Lake. It is an exciting time for the RSPCA but it is also an opportunity to reflect upon all the trustees, staff and volunteers over the years who have devoted themselves to all those animals who have needed our help. The support of the people of Rochdale has made our work possible and our grateful thanks must go to them as well.
Animals are truly wonderful. They enrich our lives in so many ways and they deserve our love and care. For those animals that suffer abuse, abandonment and cruelty the RSPCA will always do everything it can to relieve their suffering and give them an opportunity to enjoy a secure and happy life in the future. Our move to Hollingworth Lake will allow us to expand our welfare work not only for domestic animals but also for the wildlife which is increasingly threatened in this current world. Animals do not have a voice but I hope that all those good people in our community who share our respect for animals will join with us to speak on their behalf.
This exciting development for the RSPCA would not have happened without the support of Rochdale Borough Council, Your Trust and Rochdale Boroughwide Housing. On behalf of the RSPCA I would wish to convey our thanks to them."
Visitors to the lake and to the Animal Centre will also enjoy accessible facilities, with the new Animal Centre boasting a large dog friendly café, improved toilet facilities, upgraded reception and information area and a meeting room. There are new separate premises for the country park rangers.
The centre's phone number will remain the same – 01706 861897.
Published: 3 January 2023